Pakistani film industry is reviving for around 10 years, if we go 10 to 12 year back it was disappeared and snowed in by 3rd class Punjabi film. Thank God that rather good films are now being made and somewhat cinema has established itself, however, it has not yet achieved the zenith to recognize by foreign film industry 'Hollywood'.
It does not conclude that Pakistan is lacking in talent. Pakistan cinema may need some time to get mature but there are some notorious Pakistani artists who have got their talent acknowledged by Hollywood already.
Here is the list of Pakistanis in Hollywood whose work are being used some in great flicks of Hollywood.
Mir Zafar Ali
Pakistani born visual artist, alumni of FAST-NU and Beacon house, who has been a part of the visual effect team that won 3 academy awards for The Golden Compass, Life of Pie and Frozen must be credited with highest honours.
Started his Visual Effect Artist career with The day after tomorrow (2004) and bagged 3 Oscars in 6 years is nothing short of a wonder. His name has been included in 24 Hollywood projects so far. Great going Mr Ali!
Sharmeen Obaid Chinoy
This perhaps not came as surprise but her contribution to the cinema cannot be ignored. Only and first Pakistani so far to have two academy awards under her hood. First one came in 2012 for a documentary film Saving Face and second came after 4 years for The Girl in River in the same category. She is still working on similar category projects and we wish her the best to grab more Oscars in future.
Kumail Nanjiani
The Oscar-nominated Pakistani born writer and actor has certainly possessed numbers of skills. Alumni of Karachi Grammar School is surely a gem that every Pakistani should feel proud.
Started his career as a comedian, actor and podcast host, now nominated as the best original screenplay writer at 90th Academy awards 2018 for his co-produce flick The Big Sick is definitely worth appreciating. He has been acted in more than 60 Hollywood projects and working on some project in the funnel. Kumail Najiani is sure-shot Hollywood star.
Faran Tahir
Faran Tahir is certainly the most senior in terms of films done by a Pakistani breed. He has been credited in more than 80 Hollywood films and series. He has gained the honours to share the screen with Hollywood top-dogs Tom Hanks, Sylvester Stallone, Arnold Schwarzenegger, Robert Downey Jr, and Matt Damon.
Hameed Shaukat
This Lebanese and Pakistani descent is the man behind the production of some of the major and the most watched series such as; House of Cards (2015-2018), Game of Thrones (2011-2014), Her (2013) and Kung Fu Panda (2008).
He has also won an Emmy Award in the category of Outstanding Main Title Design for Game of Thrones in 2011.
Riz Ahmed
Rizwan Ahmed also known Riz MC is a wholesome package of talent and entertainment, he is an actor, rapper and activist. Riz is a British Pakistani actor started his career with a War documentary The Road to Guantanamo in 2006.  He has so far worked in around 30 Hollywood projects including the films; The Reluctant Fundamentalist(2011), Nightcrawler (2014) and Venom(2018).
He has won one Emmy Award in the category of Outstanding Lead Actor for The Nights Of in 2016 that made him the first Muslim and first South Asian to win Emmy for acting.
Laraib Atta
The unknown offspring of legendary musician Atta Ullah Khan EsaKhelvi, who is flying to success in Hollywood with her notable services as Visual Effects Artist.
She has worked in mighty Hollywood project such as 10000 BC. (2008), Sweeny Todd (2007), Godzilla (2010), X-Men: The days of future past (2014), Prince of Persia (2010), Chronicles of Narnia: The voyage of the dawn treader (2010) and Mission Impossible: Fallout (2018). Many people must have unaware of her she is undoubtedly proud of Pakistanis.
Honourable Mention
Nusrat Fateh Ali Khan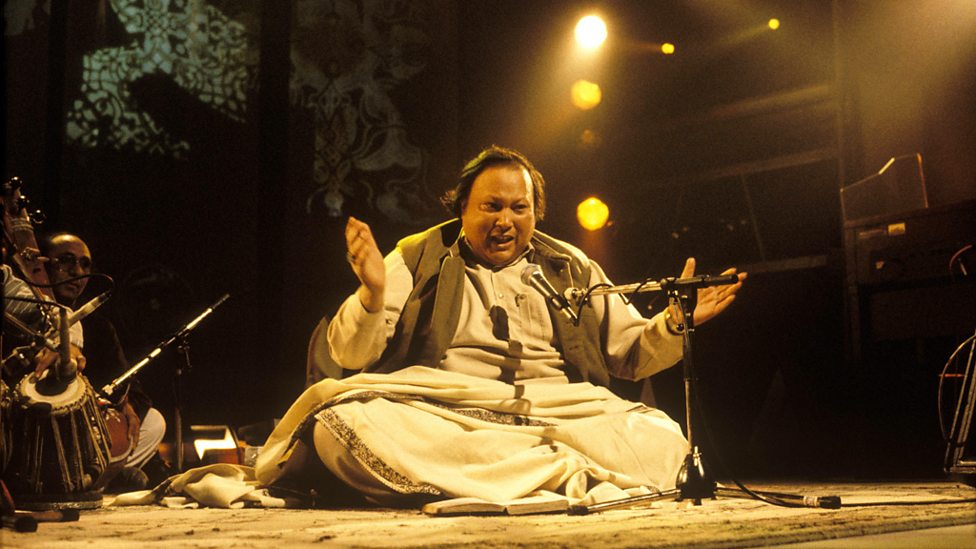 Some people are immortal when it comes to talent, Nusrat is one of the unforgettable icons of Pakistan. His work was a paragon of greatness and the pinnacle that he has set no one could not even come close to it.
Nusrat may have left us but even after his death his work and soundtrack is adapted in several Hollywood project, 'Blood Diamond (2006), Eat Pray Love (2010), Remember me (2010) and Zero Dark Thirty (2012)' that shows his everlasting impact on Hollywood who is not letting him go and the further adaptation of his is expected in upcoming Hollywood projects.
P.S: This list includes that artist who has work for several time, work recently and works that are still being used in Hollywood.
Latest posts by Muhammad Bilal (see all)