Gosh! what coke studio is bringing this season is literally jaw-dropping & all we can do is wait excitedly
(Hum Dekhenge Coke Studio 11), Coke Studio Pakistan has always made us proud. It has started in 2008 and from then to now, every August we wait excitedly for the season so we can update our playlists. Each of the songs from every season is evergreen. And the best part is August is just around the corner.
In coke studio's latest post, we get to see who will be performing in coke studio season 11. Andddd
OH-MY-GOSH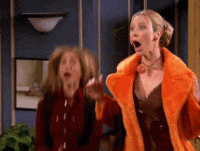 Because this time almost every other singer is freaking good that all you can do is bite yourself in excitement.
Here we go!
ARIANA & AMRINA
First, we have Ariana & Amrina, the latest sensation from coke studio explorer. These beautiful girls of Kailash have already rocked with the song "Pareek". Of course, they gonna have something even better now!
KREWALLA
Then we have "Krewalla" yessss!
See also: Krewella Sisters To Make Debut In Upcoming Coke Studio Season 11
The international EDM due, who is set to make their debut in coke studio this season.
ALI AZMAT
Our rockstar Ali Azmat!
NATASHA BAIG
Moreover, we have Natasha Baig straight outa Hunza Valley.
AHAD RAZA MIR
Yes, Ahad is not just a fabulous actor but he sings too. It was surprising right? we had no idea that he is a singer too.
RACHEL VICCAJI & HANIYA ASLAM
ATTAULLAH KHAN ESAKHELVI
Furthermore, we have the legend!
SOUNDS Of KOLACHI
Moving on, we saw sounds of Kolachi too.
KHUMARIYAN
YOUNG DESI
And a rapper  too..
LYARI UNDERGROUND
Some dope people from Lyari <3
JIMMY KHAN
ASIM AZHAR & MOMINA MUSTEHSAN
The ultimate duo.
SHUJA HAIDER & AIMA BAIG
They're here once again!
THE SKETCHES
Once again we have The sketches back after season 4
SAHIR ALI BAGGA
ALI SETHI
The versatile man!
RIAZ QADRI & GHULAM QADRI
GUL PANRA & HASSAN JAHANGIR
SANWAL ESAKHELVI & ELIZABETH RAI
BILAL KHAN & MISHAL KHUWAJA
MUGHAL-E-FUNK
ABIDA PARVEEN
Queen of Sufi
ABRAR-UL-HAQ

JAWAD AHMAD
FAREED AYAZ & ABU MUHAMMAD
ASRAR
SHAMU BAI & VISHNU
HUMAIRA ARSHAD
NAGHMA & LUCKY
The best thing this season is Naghma & Lucky, yes this season included transgenders too and it's heartwarming.

ZARSANGA
MEHR, SHAHAB, WAJIHA
CHAND TARA ORCHESTRA
SHAYAN MANGAL DAREHAN
*Phew*
So many of the artists are going to perform and it seems quite a great season. Yes, we do miss QB and Atif in this season though but let's hope for the best <3
Diversity is our strength.
Our land, free of bigotry, intolerance and ethnic violence.
Hum dekhangay.
Who you wanted in this season, do comment!
A criminologist who happened to be a writer!
Latest posts by Uzma Atta (see all)